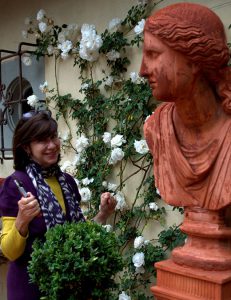 My first gardening memory was a summer day, toddling behind my grandfather as he watered his roses in the backyard garden, and playing hide and seek in the raspberry patch. In addition to luscious red raspberries, Grandpa grew red leaf lettuce, big juicy tomatoes, yellow wax beans, and summer squash. My family lived and gardened in a small town in Western Pennsylvania.
Across the street in an old red brick school house lived Fred who spoke only Italian and sang opera as he tended daffodils and tender young green in the spring followed by, Italian beans, radicchio, and many other edibles not to be found in the local grocery. I was hooked on these tastes.
Big city life was what appealed to me in my 20's and 30's. I had a career in sales and marketing which kept me on the road much of the time but on weekends I found happiness gardening around my Sausalito cottage which I draped with roses and surrounded with herbs.
When I married we moved to Walnut Acres in the San Fernando Valley. I inherited a fantastic Orange tree, a Black mission fig tree, and a flat half-acre of good soil. The gardening gene came out of dormancy and I have been gardening ever since.
I was mentored by "the Rose Lady", Jan Weverka, a feisty redhead who was somewhat of a local celebrity. Jan wrote a newsletter about growing roses using organic methods and had her own formula organic elixir which I still use. Jan passed on to me her formula and a list of devoted followers and I was off and running in the rose care business. That was 12 years ago.
Along the way, I pursued a more formal course of study in horticulture and garden design at Pierce College, UCLA, and The Los Angeles Arboretum. My passion is to study and travel to some of the great Gardens of the World. This year's adventure will take me to the Italian Lake District in Northern Italy as well as England and the Chelsea Garden Show!
I love my gardening life!